Dental Bridges at Sea Brite Dental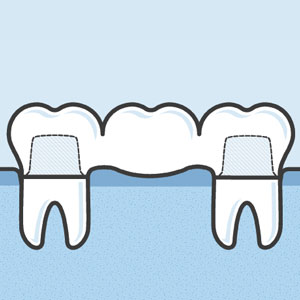 Dental bridges are a straightforward solution for replacing missing teeth. A bridge is a multi-tooth unit that's suspended across an open space in your mouth. On either end is a crown that rests on top of a healthy supporting tooth. Between them is a pontic (false) crown that floats over your gum tissue.
Each crown is carefully designed in both shape and color to blend in with your smile for a natural appearance.
Should I Get a Dental Bridge?
By restoring your missing tooth, you can prevent the adjacent teeth from drifting out of place, leading to other complications. Even if the gap isn't an aesthetic concern, being able to chew and speak effectively is.
If you need a quick tooth replacement or don't qualify for dental implants, then a bridge is usually the best option. Or if you have multiple teeth to replace, an implant-supported bridge eliminates the need for a removable partial denture.
Bridge Treatment: What to Expect
Having a dental bridge made is similar to what you would expect during a crown appointment. First, we'll numb the supporting teeth, make some adjustments to their shape, then take an impression. A mold of your mouth is sent to our lab, where the custom bridge is created by hand. Material options range from gold, porcelain fused to metal or all-porcelain bridges. We'll discuss all options and help you decide what is right for you. About two weeks later, we'll have your permanent bridge ready to cement into place.
How to Clean Around Bridges
Although a bridge won't decay, the supporting teeth underneath it still can. The margin around the edges of your bridge needs to be cleaned thoroughly each day. Use a floss threader or water flosser to clean under the fixed restoration, especially against the supporting teeth. This particular area is prone to gum disease and decay if not cared for properly.
Advantages of Dental Bridges
Fast tooth replacement
A routine procedure
Ideal for 1-2 missing teeth
Can be placed on top of dental implants
Look natural
Custom designed
Do You Need a Bridge?
Bridges are a great option for most of our patients. However, we'll want to discuss all of your choices so that you can make an educated decision about your smile's future.
During your exam, we will need to evaluate the integrity of your supporting teeth, including how much bone there is supporting them. After a short evaluation and quick X-ray, we'll have the information needed to move forward.
Putting Your Smile First
Predictably replace your missing teeth and smile with confidence again. Contact us to book a dental bridges La Grande consultation today!
CONTACT US

Dental Bridges La Grande, Island City, Cove, Elgin, Union OR | (541) 963-2741