Restorative Dentistry at
Sea Brite Dental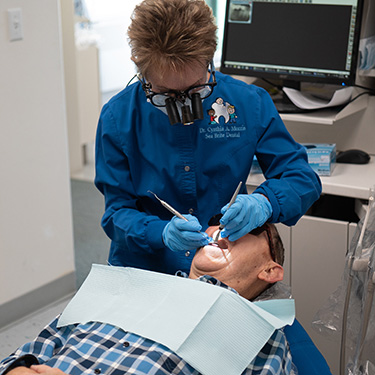 Are you concerned about your oral health? If you have a tooth that has been damaged or lost, the gaps in your smile can be repaired with restorative dentistry. Available at Sea Brite Dental, our array of services will keep your teeth looking healthy.
Dental Fillings
Once we identify tooth decay during an examination, we'll show you where it is on an X-ray and discuss the size of filling you need. We have found that metal fillings are cheaper, long-lasting, are more often covered by insurance and less likely to have recurrent decay than white fillings. White fillings blend in with your teeth for a more pleasing appearance.
We will work with you to determine the most suitable material to use for your filling and give you the choice of how you'd like to proceed. You'll receive a written explanation of the pros and cons and an estimate of treatment costs so that you can make the best decision for you.
Dental Crowns
If the damage to a tooth is too extensive for a filling, a dental crown may be appropriate. Our top-notch laboratory creates crowns to Dr. Morris' exact specifications. She'll make sure that the crown fits perfectly. With all-white materials, there is no gray tint at the gumline. Our BruxZir® crowns are extremely durable and have the same rate of wear as natural teeth. This type of zirconia crown won't wear down the opposing teeth, either, as porcelain materials would. We'll go over all of your options and let you choose what you would like to do.
Dental Bridges
If you are missing a tooth and are seeking a cost-effective alternative to a dental implant, a bridge might be the way to go. It involves attaching a crown to the teeth that neighbor the gap, then suspending a fake tooth between them into the open space. It's important to know that the bridge has to be carefully cleaned to prevent decay. You can have it made in gold, porcelain fused to metal or all-porcelain, depending on what is right for you.
Dental Implant Restorations
The most modern solution to tooth replacement is a dental implant. They look, feel and function just like natural teeth and can last for your lifetime with the proper care. If you choose to go ahead with this option, a surgeon will place your implant. Once the site has healed, you can come to our practice to have a crown, bridge or denture affixed to the implant.
Call to Book Your Time With Us
Would you like to enhance the look or function of your smile? You can reach us by phone or email to schedule your appointment. Contact us today and learn more about restorative dentistry La Grande!
CONTACT US »

Restorative Dentistry La Grande, Island City, Cove, Elgin, Union OR |
(541) 963-2741