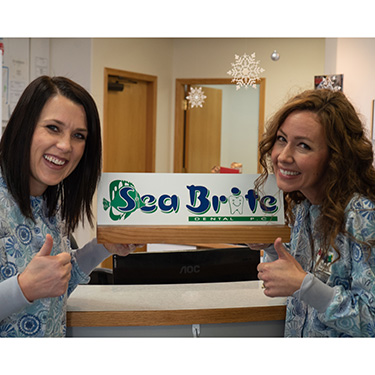 Sea Brite Dental Reviews
What Our La Grande Patients Say
At Sea Brite Dental we love when patients share with us their feedback and comments after chiropractic care. Please read our patient testimonials below to see what other people have achieved through their tailored treatment plans with us.
We love reviews! We encourage you to leave a review on Google, Facebook or Yelp to let your neighbors, friends and family know about the care you received at Sea Brite Dental.
For more information or to schedule an appointment contact us today.

Totally Happy With This Team
It's been a really long time since both Greg and I have been totally happy with our dentist, hygienist, and the office staff who handles the many challenges of scheduling, billing, reminding patients of appointments, and greeting patients when they arrive. You and your staff, Dr. Morris, have totally spiked it all and we are so happy to have found you! Thank you for your non-nonsense, honest, and friendly approach to dentistry!! We will be sharing our experience with friends and family.
-Linda & Greg G.
Great Team Here!
All of the staff at Sea Brite were so friendly, warm, helpful, and informative! Best experience I've ever had at a dentist! Highly recommend for anyone looking for dental care in the area!
-Leann C.
Very Happy With the Service
Both the Hygienist and Dr Morris explained a number of things I had never heard before. Although Dr Morris said my previous dental care was excellent, I didn't understand why certain issues had surfaced. Now I know and can be more aware of what I can do to keep my teeth in my advancing years! Everyone in the office was very friendly and helpful.
-Lisa D.
Amazing Staff
Amazing staff. Very informative and took their time to stay with me as there were a few problems which were hidden. They found them and now I will be certain of my teeth getting healthier. I am so very relieved.
-Patricia M.
I Absolutely Love Dr. Morris
The front staff went above my expectations to help me understand my coverage and work with my schedule. The dental assistants and hygienist were upbeat and friendly. I absolutely love Dr. Morris. She makes me feel comfortable and does a wonderful job explaining the what and why of everything.
-Nicole B.
Better Experience
Everyone I worked with was top shelf. I don't remember ever having a better experience at the dentist. A very big thanks.
-Shaun W.
Positive Attitude
I love my ultrasonic teeth cleaning experience. And Dr. Morris's positive attitude.
-Kathleen C.
Appreciate Directness
Extremely competent staff. Great dental assistant. Dr. Morris shared clear, concise explanations about things that other doctors didn't make clear to me. She is no-nonsense and direct.
-Sharon M.
Great First Experience
I can say that I had a really great first experience at SeaBrite Dental. I received great customer service, along with great recommendations and explanations for every part of my dental visit, including my billing. Staff were very genuine and friendly.
-Tyana M.
Clean and Professional
Everyone is very nice. Everything was explained very well. Clean and professional. I felt relaxed and safe. I'm very happy with my experience here.
-Hedi J.
Glad To Have Found You
I found you through combination of driving by, friend's recommendation, and internet through insurance. First impression was of professionalism, and personality of dentist and staff. Glad to have found you!
-Lynn W.
Thanks for the Good Experience!
It's hard to go to a nice dentist. After I left, I felt total confident and comfortable about coming here. Thanks for the good experience.
-Kathy F.
Professional And Friendly
Everybody there was very polite and professional and made me feel very comfortable. Also, very friendly and helpful.
-Tommy L.
Listened To My Wishes
You saved some of my teeth when another dentist just wanted to pull them all. He did not really listen to my wish, you did. Thanks so much.
-Denise H.
Would Recommend Them To Everyone..
The staff and doctor was very helpful and explained the procedures that needed to be done. I am glad I chose Sea Brite Dental.
-Kathy S.
Up Front About My Dental Needs
Very nice staff. Up front personnel were welcoming. Sam and Dr. Morris were both nice and up front about my dental needs.
-Lisa B.
Great Service
Being a new patient, the hygienist and Dr. Morris were thorough in the examination/cleaning process. They also took their time in explaining the health of my teeth and answered my questions. I appreciate that very much. Keep up the great service and thanks!
-Thao M.
Good Care And Kindness
Brought the granddaughters in when was checking on Andy and Katie did a great job making them want to come back when they need a new dentist. Good care and kindness. Thanks.
-Maxine H.

Sea Brite Dental Reviews | (541) 963-2741