Teeth Whitening at Sea Brite Dental
If you want a whiter smile, professional teeth whitening treatments offer the best results. Our Venus systems at Sea Brite Dental are designed to provide maximum stain removal in a gentle, yet effective, manner.
Professional vs. Over-the-Counter Kits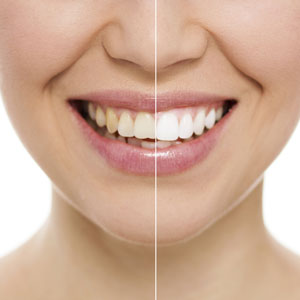 Compared to commercial products sold online and in stores, professional teeth whitening kits are:
Faster
More effective
Affordable to maintain
Stronger
More thorough
That's because store-bought kits, strips and trays don't contain as strong of solutions or provide even results. As a result, whitening can be patchy, uneven and burn your gums.
When you choose a professional whitening system, you have a customized tray that hugs every contour of each tooth. This design ensures that the gel stays in full contact with your teeth, whitening them evenly.
Which Is Cheaper?
Store-bought systems may seem cheaper at first. But they have to be used longer to get results. When the product runs out, you'll need to buy a new kit to touch up your smile once or twice a year. The concentrations are weaker than what's sold in a dental office.
With a professional Venus whitening system, your trays last for years. All you will need is an affordable refill of gel when your current one runs out. Since we recommend touching up after cleanings, you may only need to buy one tube of gel per year.
How Take-Home Whitening Works
First, we'll see you for an appointment to make an impression of your teeth. From that mold, we'll create a custom fitted bleaching tray that looks similar to a clear retainer. Our whitening trays cover all of your teeth, not just the front ones, so you have an even whiter smile. Your trays will be ready to pick up a few days later.
Place a small dot of gel into the reservoir of each tooth inside your tray. Then firmly press it over your teeth, distributing the gel across your smile. Wear your tray for about an hour a day; you'll see full results in about 1-2 weeks.
For the best outcome, avoid dark liquids like tea, coffee and soda for the first few weeks. If you feel the need to indulge, rinse your mouth thoroughly with water afterward. We recommend whitening after a cleaning appointment, so that we can remove any surface stains or tartar buildup that might be in the way.
Most people will want to touch up for a few days at a time, every 3-6 months (depending on how quickly you build up tooth stain).
If You Have Dental Work
Tooth-colored restorations like crowns, veneers, bonding and fillings will not respond to whitening products. If you have any on your front teeth, they will stand out from the lighter shade of your recently bleached enamel. But if you're planning on updating them soon, whitening beforehand is a great idea.
Get Started Today
Have you been searching for effective teeth whitening La Grande? Contact us for an appointment to get fitted with our Venus take-home whitening system.
CONTACT US

Teeth Whitening La Grande, Island City, Cove, Elgin, Union OR | (541) 963-2741