Dental Crowns at Sea Brite Dental
Crowns – sometimes called "caps" – are restorations we use to protect structurally damaged teeth. They're needed when a cavity or crack is too large to fill, posing a risk to the overall tooth.
Placing a crown over your tooth preserves it when it would otherwise fracture from everyday use. As always, Sea Brite Dental will go over all of your options and let you choose what you would like to do.
How Crowns Are Made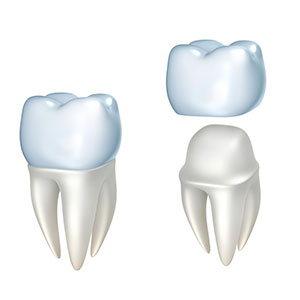 Your crown treatment is typically spread over the course of two trips to our office. At the initial visit, we'll numb your tooth and then adjust it, so that a crown can slip over it without affecting your bite. Our BruxZir® crowns are extremely durable and have the same rate of wear as natural teeth.
When everything is prepped appropriately, we'll take an impression of your tooth and send it to our lab. The laboratory then creates your crown by hand to Dr. Morris' exact specifications. The shade of porcelain is just so that it blends in with your smile.
The permanent crown will be ready about two weeks later. At this second visit, we'll remove the temporary crown and cement the custom one in place. No numbing is needed. When things are set, we'll check your occlusion (bite) and make any necessary adjustments so that things fit into place as desired.
Do I Need a Crown?
Generally, you will need a crown if your tooth is too damaged to repair with a filling. Some of the instances where we recommend a full coverage restoration include:
After a root canal
Large fractures
Cracked teeth
Severe chips
During your exam, we'll evaluate your tooth and determine if it's healthy enough for a crown. Since the structure under the enamel is weaker, it's important to perform treatment quickly. Otherwise, your tooth can erode or deteriorate at an accelerated rate.
Caring for Your New Crown
Crowns have a small margin around the edges where your tooth is still exposed to outside elements. As such, it's vital to clean your crown regularly. Doing so prevents bacteria from accumulating and creating new areas of decay (which would, in turn, compromise your new restoration).
You should gently brush around the edges of your crown twice per day and floss at least once per day. Careful flossing will not pull a stable crown off of your tooth. Wrap it snuggly against the side and rub it up and down several times, cleaning the crown, margin and upper root surfaces.
Need a Second Opinion?
If you think you need a dental crown La Grande, have to replace an old one or want a second opinion, contact us to book a consultation!
CONTACT US

Dental Crowns La Grande, Island City, Cove, Elgin, Union OR | (541) 963-2741