Meet Dr. Cynthia Morris
From the Military to Private Practice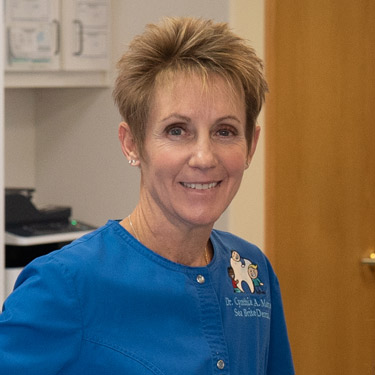 Dr. Morris completed her undergraduate education at Eastern Oregon University and Linfield College in McMinnville, Oregon, where she graduated cum laude. With a desire to enter the medical field, she explored some options, including training as a dental assistant. This experience motivated her to attend Oregon Health Sciences University School of Dentistry.
After graduating in the top 10 of her class, Dr. Morris was accepted to the United States Air Force and stationed at a clinic in Okinawa, Japan. There, she rotated through several specialties including root canals, crowns and bridges, wisdom teeth extractions and pediatric dentistry. It was during this time that Dr. Morris became captivated by the sea, and that's why you'll see its calming effects all around at Sea Brite Dental.
The next step in Dr. Morris' career was a transfer to M ,ountain Home Air Force Base, where she continued to hone her skills as a general family practice dentist. Around the same time, Dr. Morris and her husband adopted two children. With a desire to give them a stable life, she left the Air Force and entered private practice.
EXPLORE OUR SERVICES »

Enjoying an Active Family Life
A short associateship in Moscow, Idaho was followed by moving to the La Grande community, where Dr. Morris had wanted to live. Sea Brite Dental has been here since 1994, providing all ages dental care to families and individuals.
Dr. Morris and her husband are outdoor and exercise enthusiasts. She loves to run long distances and spends lots of time running the trails through the Elkhorn and Eagle Cap Mountains. Dr. Morris' husband is an avid hunter and loves to be in the outdoors tracking wildlife and subsequently writing about it.
The memberships Dr. Morris holds include the Academy of General Dentistry and the American Academy of Oral Systemic Health.
Schedule Your Checkup Today
If you could use a cleaning, examination or have a more specific concern, Dr. Morris and her team are here to help you. Contact us today to book your visit with us!

Dentist La Grande | (541) 963-2741